Design information on the MkI and MkII Swift Boats follows. Click on the thumbnail photos below to enlarge:
The Patrol Craft Fast (PCF) or Swift Boat:
Photo courtesy of Burke Salsi and Dave Pendergrass.
Photo courtesy of Jack Spratt and the Swift Boat Association Home Page.
The above two photos (PCF 12 on the Mekong River in Sept. 1969 and PCF 61 docked at Chu Lai in July 1969) are courtesy of Burke Salsi.
PCF 4 was the first Swift boat sunk in Vietnam. There were four killed and two wounded in the mining incident in February 1966 off the Three Sisters area between Rach Gia and Ha Tien. The boat operated out of An Thoi. Photo and information courtesy of Truman Richey (PCF 3 and PCF 74).
Here are several photos of the PCF-04 recovery operation conducted by the crew of USS Krishna (ARL-38). Photos courtesy of Ed Utley, a Seaman Personellman striker aboard the Krishna from November 1965 to November 1966.
PCF-04 before being sunk by booby trapped VC flag.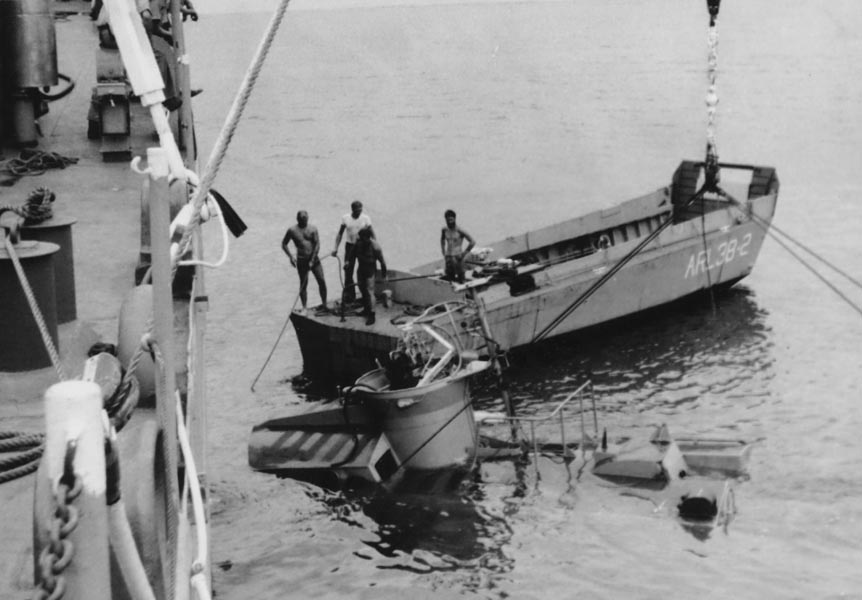 For a detailed explanation of the loss of PCF-4, visit Bob Shirley's web site and this page in particular. Be sure to hit your browser's back button to return to this web site. While you're there be sure to bookmark Bob's site as it is one of the best available on Swift Boats.

PCF 12 photo courtesy of Jim Steffes, who received it from John Davis, skipper of PCF 19.
PCF 71 near Vung Tau in March 1967. Photo courtesy of Doug Lindsey (YRBM-17).

The USS Tutuila (ARG-4) was a repair ship and temporary home to Swift boat crews. See more swift boat photos on this page.

The Naval Detachment at Cat Lo provided a staging base for some MRF boats arriving in country and was home to many Swift Boat and PBR sailors. The base also was home to PACV's for a period of time. The following three B&W photos are courtesy of Albert Moore (USS Benewah) and were taken in 1967. An aerial view of the base, the main gate, and a shot of 'beautiful' Main Street. For a history of the Cat Lo base as well as other bases in Vietnam, visit this Mobile Riverine Force Association page.