The Monitor was the battleship of our fleet. It was equipped with 50-caliber, 40-millimeter and 20-millimeter gun mounts, two 40-millimeter grenade launchers, and an 81-millimeter mortar. Around 1969, the monitors started sporting a 105 howitzer mount used in tanks. This gun made a huge explosion and got Charlie's attention in a big way. If you are interested in design specifications of the Monitor, click the thumbnail photos that follow:
See also MISC. BOAT INFO.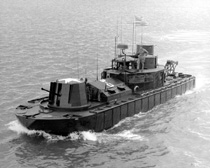 Photos courtesy of the MRFA and PHC Dan Dodd, combat photographer
M-112-2 alongside the USS Colleton (APB 36) in 1968, Photo by PHC Dan Dodd, and courtesy Albert Moore and the MRFA.
M-111-3 shot from a Zippo.